For the testing of fixed and variable displacement pumps, solenoid valves, and proportional valves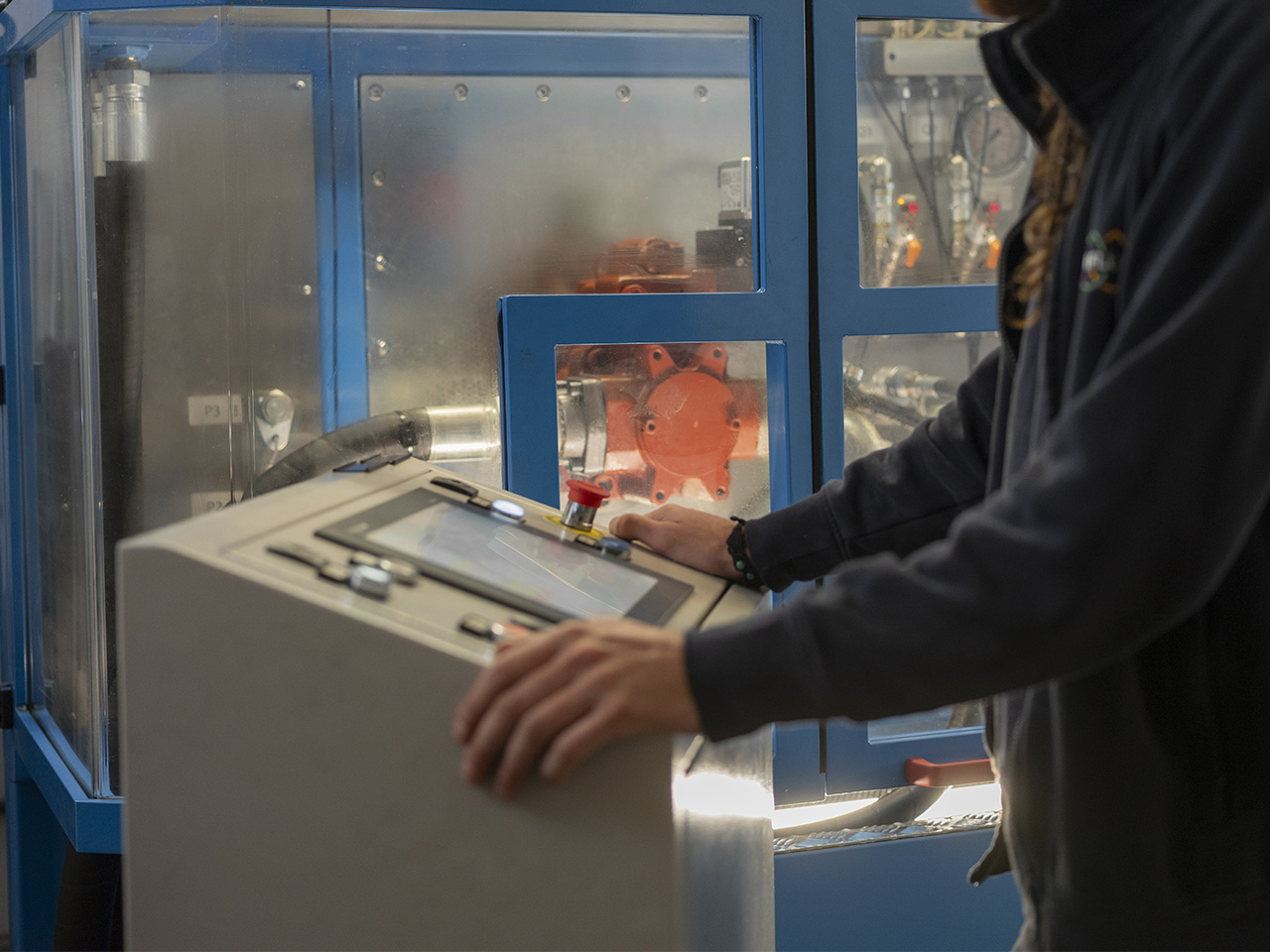 Nominal power of the electric motor 45 kW (controlled by an inverter).

Auxiliary motor power 5.5 kW

Maximum adjustable pressure on the main circuit 350 bar

Maximum adjustable flow rate 600 l/min

Dedicated circuit for testing proportional directional, pressure and flow control valves
Set up for alternate frequency test
Engineered test bench
by our technicians
Designed to test the performance of hydraulic pumps, motors, on-off and proportional valves, the test bench is a diagnostic tool used to accurately test new or reconditioned products and components before they are delivered to the customer for final installation.
In addition to supporting the after-sales service and ensuring professionalism, our test bench is also designed to meet the production and quality assurance needs of internally assembled products.
Testing of single, double and triple pumps
The main motor is controlled by an inverter with a maximum power of 45 kW, and the maximum adjustable pressure is 350 bar, thanks to the presence of a digital proportional valve in the main circuit.
The test bench allows testing of single, double and triple pumps, which can be of both fixed and variable displacement types, specifically: vane pumps, external and internal gear pumps and piston pumps.
The main circuit allows verifying the nominal flow of the pumps through a flow meter and controlling the circuit pressure using a proportional control valve.
The test bench is operated from a control panel equipped with a touch-screen, which provides real-time data such as flow rate, pressure, oil temperature, power, current, motor torque, and RPM.
Most of these parameters are particularly useful for calibrating constant power regulator piston pumps.
The dedicated data acquisition software can capture all the relevant information necessary for generating detailed graphs that describe the conducted tests.
Testing of solenoid valves and proportional valves
The auxiliary group, equipped with an independent motor pump unit, is designed for testing electrovalves and proportional valves.
Even when testing electrovalves and proportional valves, specific test graphs can be generated to represent the conducted tests.
Discover all our hydraulic services
Interfluid is at your complete disposal to explain all the features and potential of Atos proportional valves